The Presidential Ham
has just been brought to my attention, and now I bring it to yours.
The Presidential Ham is a series of paintings by an artist named bijijoo, who, according to his biography, has a PhD in chemistry and works in intellectual property law. He also paints amazing pictures of presidents holding hams.
Apparently
bijijoo got the idea
to paint presidents with hams after he was introduced to the idea of "larding," wherein a person leaves a hunk of lard on someone's doorstep. (This shouldn't be confused with the larding done to a piece of meat to make it more tender, a la
the Thomas Jefferson roast
.) One day instead of leaving a hunk of lard for a friend, he left a painting of Richard Nixon holding a ham, thus essentially leaving two hunks of lard.
The project then grew to include each of the presidents holding a ham.
I think my favorite is John Quincy Adams, who looks terrified by the ham he's holding.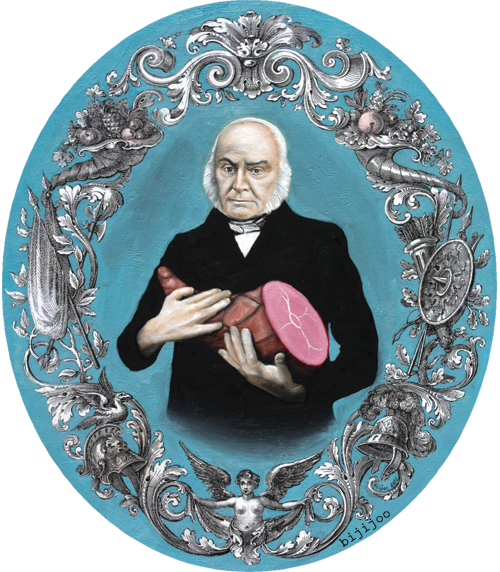 Unfortunately, prints are not available online, although bijijoo's website say you can
contact him
for information, which I just might do. A portrait of a president holding a ham would look fantastic next to a portrait of a
vice president with an octopus on his head
.
And speaking of stuff I love, be sure to
enter my giveaway
of a copy of
Lafayette in the Somewhat United States
, autographed by Sarah Vowell! The contest ends on July 4, so hurry!