'Tis that season again! To help you find the perfect gift for the slightly-off presidential history nut in your life, I've compiled a list of some of my favorite things.
Some of these items contain Amazon affiliate links. Shopping through them doesn't add any cost for you, but it does mean that I earn a pittance so I can keep bringing you high-quality Sean Spicer fan fiction. The non-Amazon links provide me no benefit other than sharing in the feeling of happiness you'll get from knowing you've selected a perfect gift. (It should also be noted that I have not received any compensation from any of the entities mentioned here.)
Presidential Ugly Christmas Sweaters
You guys... Seriously...I don't think I've ever been this excited about a presidential Christmas item: President-themed ugly Christmas sweater-shirts.
Do I need to repeat that?
President. Themed. Ugly. Christmas. Sweater. Shirts.
Election College has a podcast that I haven't listened to yet (but you bet I will!) and they've also created this line of shirts.
Sure, there are some people you might expect:
Abraham Lincoln
,
Barack Obama
,
Teddy Roosevelt
,
Ronald Reagan
.
But there's also
James Garfield
,
Abigail Adams
, and...get ready for this...
Eleanor Roosevelt
.
Collect them all!
Candles...and a Book!
Back for the
third
year in a row is JD and Kate Industries/Hottest Heads of State. Last year I told you about their
amazing president- and president-adjacent-scented candles
. Now they've added some new ones, including
Rutherford B. Hayes
,
Theodore Roosevelt
, and
Ronald Reagan
.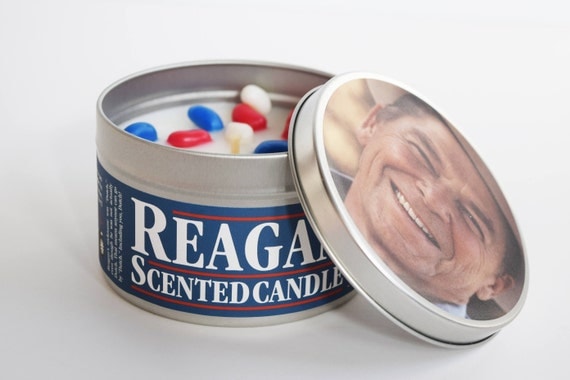 Look at those jelly beans! If you like eating wax, they look almost good enough to eat!
I have a few of their candles already and will inevitably buy more, even though I don't burn candles. Just sniffing them and reading the hilarious labels (don't read them while the candles are lit) is enough for me. I've been bugging them to create a smoke-, whiskey-, and waffle-scented Warren G. Harding candle, but for some reason they feel it wouldn't sell well. If you're so inclined, drop them a note to let them know how much you want one, too.
JD and Kate also have an upcoming book:
Hottest Heads of State: Volume One: The American Presidents
. It won't be out until the end of January, but if you get it as a gift for someone, the anticipation will make it that much more rewarding when it finally arrives. The book is sort-of a mashup of presidential trivia and Teen Beat magazine. You'll learn presidential pick-up lines and can take a quiz to find out which president has a crush on you. Plus there's a Dwight Eisenhower mask! I can't wait!
Octopuses
Also making a return appearance in my gift guide is Veeptopus, the sublime union of octopuses and vice presidents we never knew we needed. Veeptopus has a lovely new hardcover book featuring all of the vice presidents with octopuses on (or emerging from) their heads. I bought one as part of a Kickstarter campaign, and I can honestly say it is the finest volume of cephalopod artwork I own.
And you can own one, too
.
To whet your appetite for octopus, Veeptopus has created a
quiz to help you determine which Vice President you are
. I'm Henry Wallace.
A Probably Not-Good Movie
The other day when I decided to find out how much the entire season of
The Brady Bunch
is (spoiler: $34.99), I discovered there's a movie called
The Brady Bunch in the White House
. The description confuses me:
"In The Brady Bunch in the White House," the Brady Bunch are moving to Washington when Mike Brady gets elected President of the United States. When he returns a $67 million lottery ticket to its rightful owner, he is invited to the White House to meet the president and finds himself being sworn in as Chief Executive of the United States. Now effectively acknowledged as the first family, the Brady clan manages to save the government from a devastating scandal.
At first I thought it meant that they were moving to Washington because Mike was elected president, but then I realized...no...I think he wasn't elected at all? He just accidentally got sworn in?
Frankly, it sounds terrible, but it might just be so terrible it's great. And for only $7.77, we can't afford not to find out. I'll have a full review soon, but buy it now if you need to mix up your holiday movie routine a little.


Ornament
If you want to support some non-profits, one option is to buy
this year's Christmas ornament
from the White House Historical Association. The 2017 ornament commemorates Franklin Roosevelt. The shape is meant to be reminiscent of a table-top radio, and the back features his beloved dog Fala sitting next to a Christmas tree.
Do Some Actual Good
You could also make a tax-deductible donation to
One America Appeal
, the joint effort created by the five living former presidents to aid in hurricane relief efforts. There's still a lot of work to be done.
Go forth: Shop, donate, and have a joyous holiday season!